The Wonderful World of Elderberries
Sambucus nigra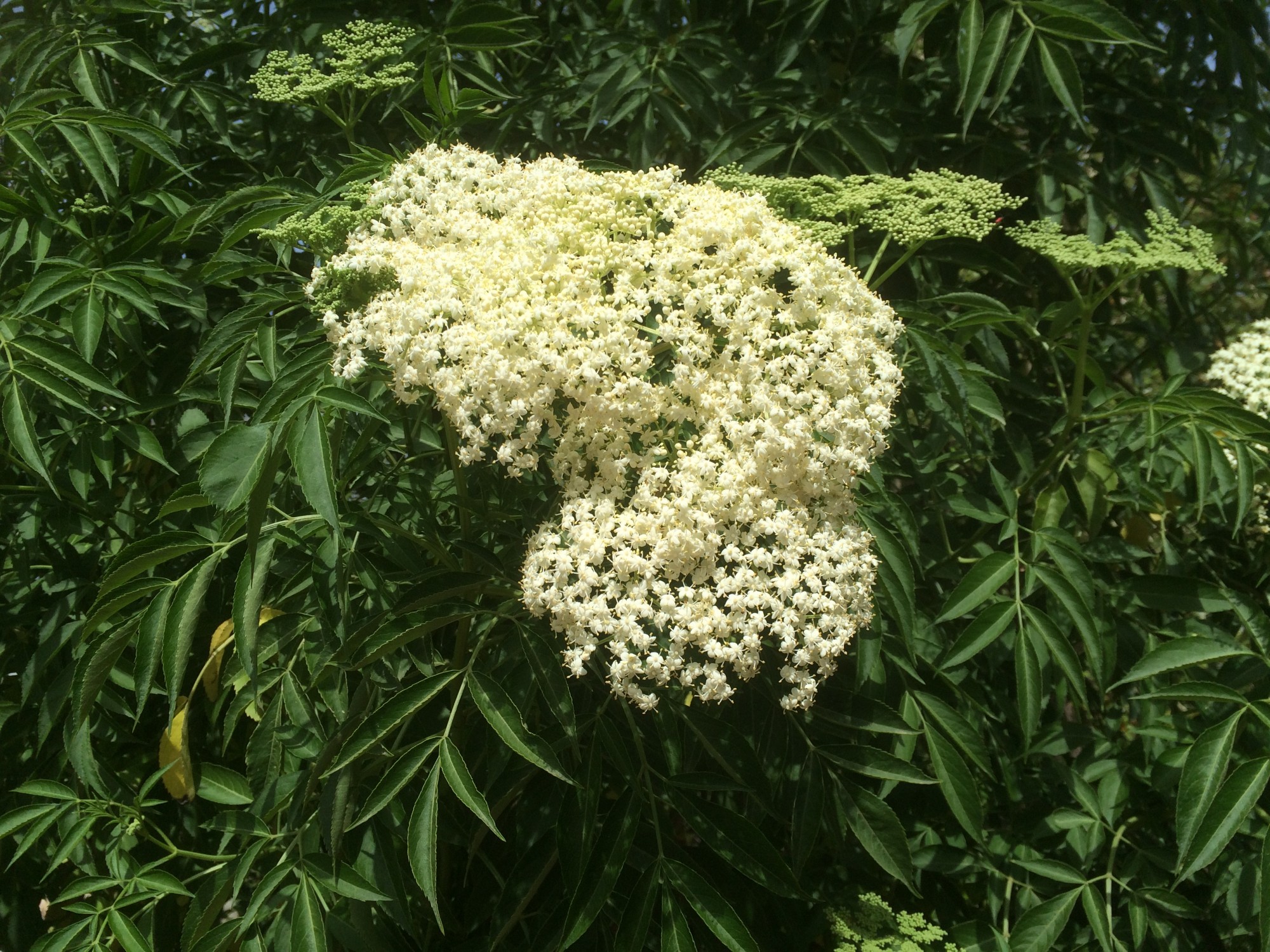 We have an elderberry bush, Sambucus nigra, in our Bustan (agricultural garden), which I planted many years ago. Years went by without seeing any berries - lots of flowers, but no berries until something changed, and I'm not quite sure what. Maybe the bush needed to mature a bit, and maybe my bees simply worked their magic. Either way, in the last few years I have had such success in berry production that I decided to plant some more bushes to commercially sell berries year-round.
It is extremely easy to grow elderberry and every garden should have at least one bush. They are quite drought and disease-resistant and bloom continually from early spring to fall (in colder climates the growing season is from late May to early July). I recommend you prune the bush sometime in the winter or early spring to help limit its growth and make berry and flower collection much easier.
Elderberries have been used medicinally for centuries in Europe and North America for a wide variety of ailments. They have special proteins and bioflavonoids that can destroy viruses that infect cells in the body. Elderberries are also known to significantly enhance immune function by boosting the production of cytokines in the body.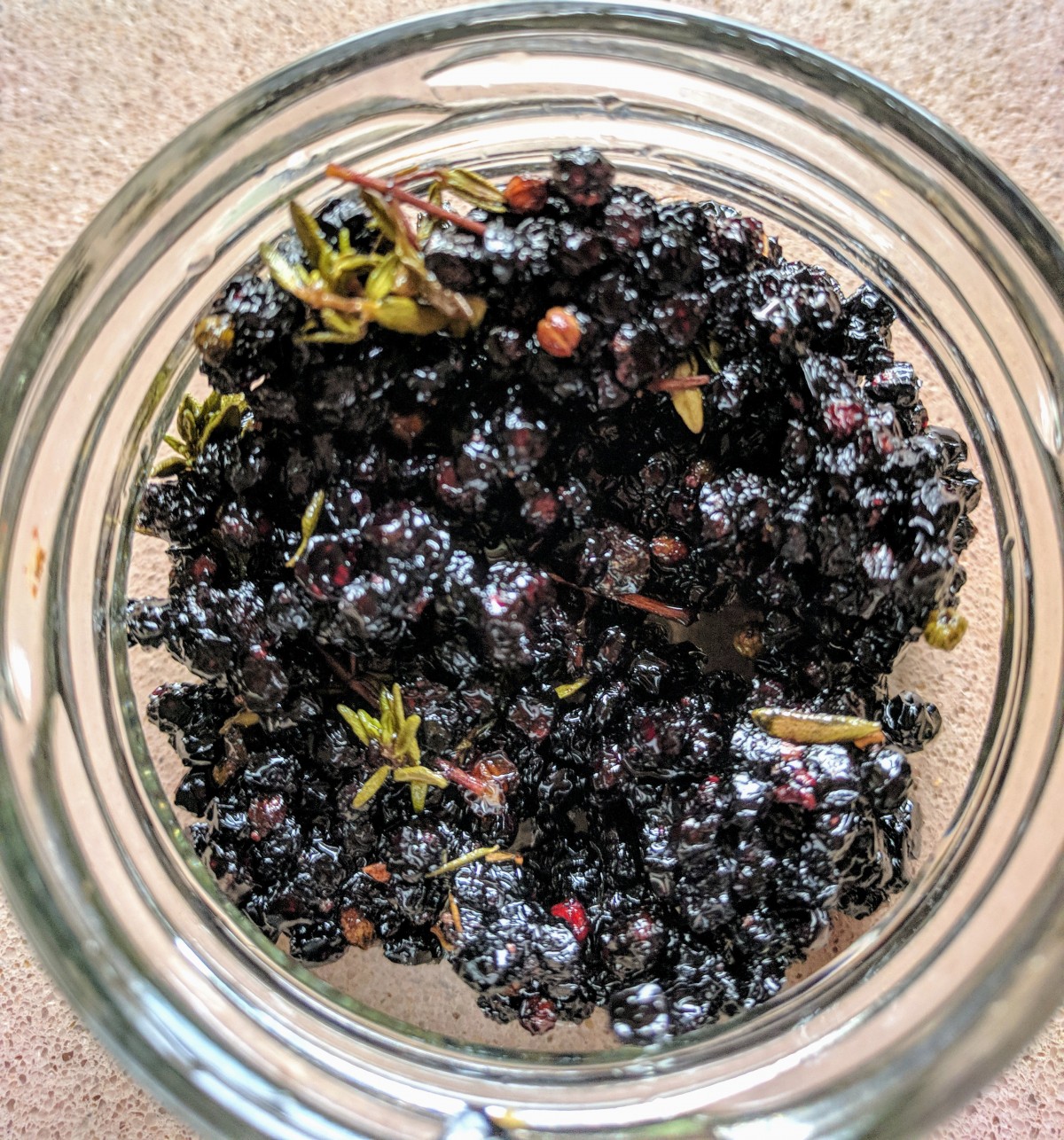 Elderberries are one of the most effective remedies for viral and bacterial infections such as colds and flu and can substantially shorten the duration of your illness if you get sick. They also are very beneficial for bronchial and respiratory problems and can help loosen and expel congestion in the lungs. Elderberry juice is known to relieve neurological spasms and tics in the face and body as well as alleviate the pain of neurological conditions such as sciatica.
Sambucol, a type of elderberry extract, has potent antioxidant abilities and has been shown to increase the production of lymphocytes or immune cells which are needed to fight off infection and are particularly beneficial for shingles, hepatitis, HIV, asthma, rheumatoid arthritis, as well as heart and cardiovascular conditions.
The elderberry flowers are both medicinal as well as edible and can be used in a tea or made into an alcohol-free elderflower cordial that helps heal sinus congestion and infections as well as allergies.
When using elderberries, be sure to remove any leaves, bark or stalks, as they are toxic and should not be eaten. The raw berries also contain toxic substances that are destroyed when exposed to heat. Research indicates that heat not only neutralizes the toxins in the berries but actually concentrates the beneficial polyphenols and anthocyanins. Most herbalists recommend cooking elderberries over a low to medium heat for at least 15 minutes, however, dried elderberries can be steeped in hot water for a few minutes to make a healing and immune-boosting tea. Our recommendation is an easy to make and great tasting elderberry syrup that is both alcohol and preservative-free.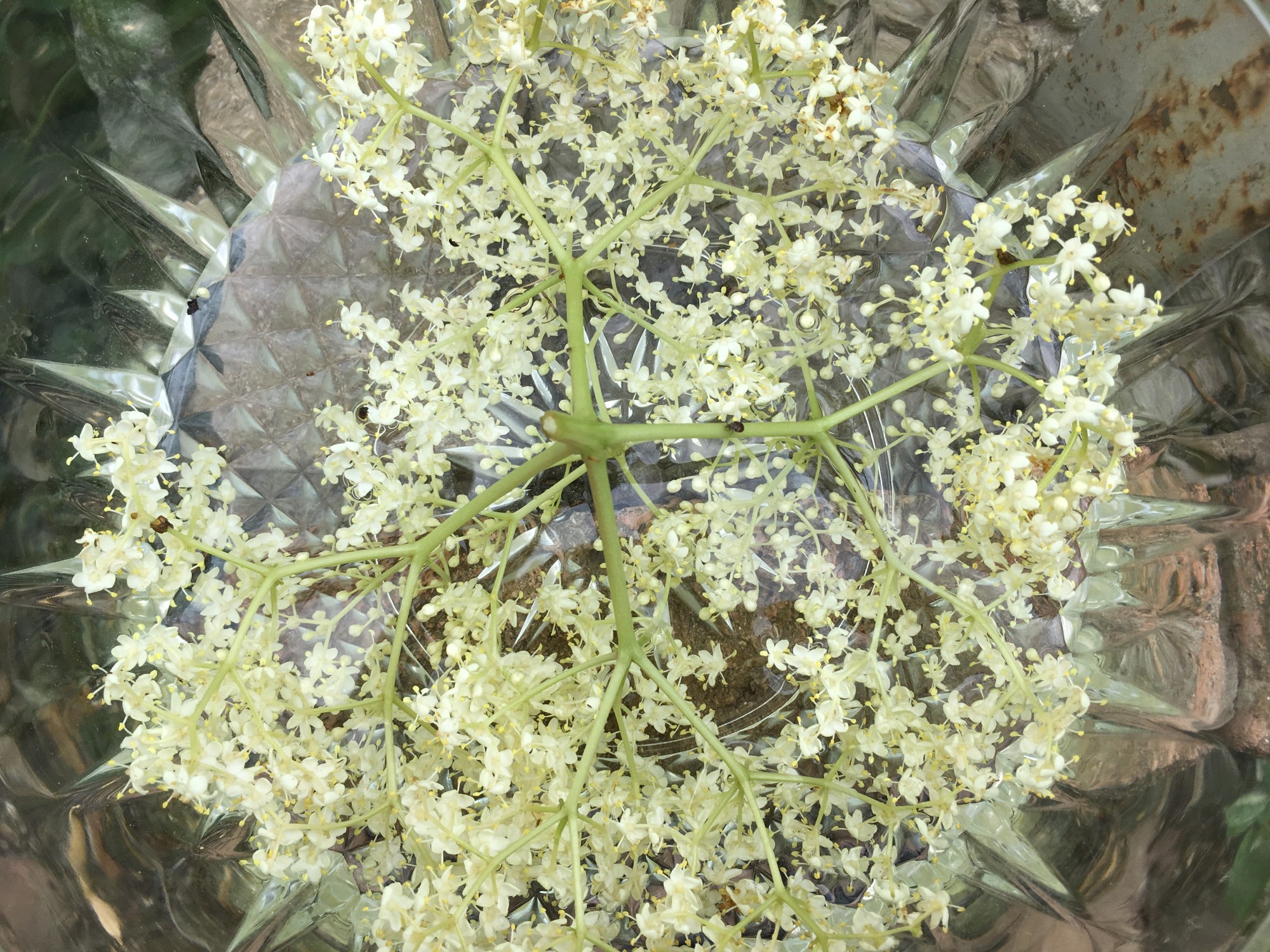 Non-alcoholic Elderberry Flower Cordial:
This is a great drink for hot summer months and is made only with fresh elderberry flowers. When picking elderberry flowers, be careful to hold them upright as much as possible, so as not to lose the pollen, which is the source of much of the unique flavor and fragrance. Place carefully in a paper bag to carefully examine later to remove any bugs. Trim as much of the stalk as you can before use.
Ingredients:
4-5 large flower clusters (8-10 smaller ones)
A medium-sized lemon
1-1 ½ cups of honey (or organic cane sugar)
4 cups of water
Optional: you can add up to ½ cup of herbs such as mint, lemon balm, lemon verbena, or lavender. If you want a pink-red colored syrup, you can use hibiscus calyxes or rose hips.
Instructions:
Heat the water and honey. Do not bring to a boil. If you have chosen to use cane sugar, you will need to let it boil for a bit, until it thickens some.
Slice the lemon and place it in a large glass container together with the elderberry flowers and additional herbs.
Pour syrup over flowers, lemon, and herbs, cover and place in the refrigerator for 2 days.
Remove from refrigerator, strain and return to refrigerator until needed.
To use - add ¼ cup of the syrup to a glass full of ice and optional additional herbs such as lemon balm or mint. Add water, and enjoy your immune-boosting, alcohol-free summer cordial.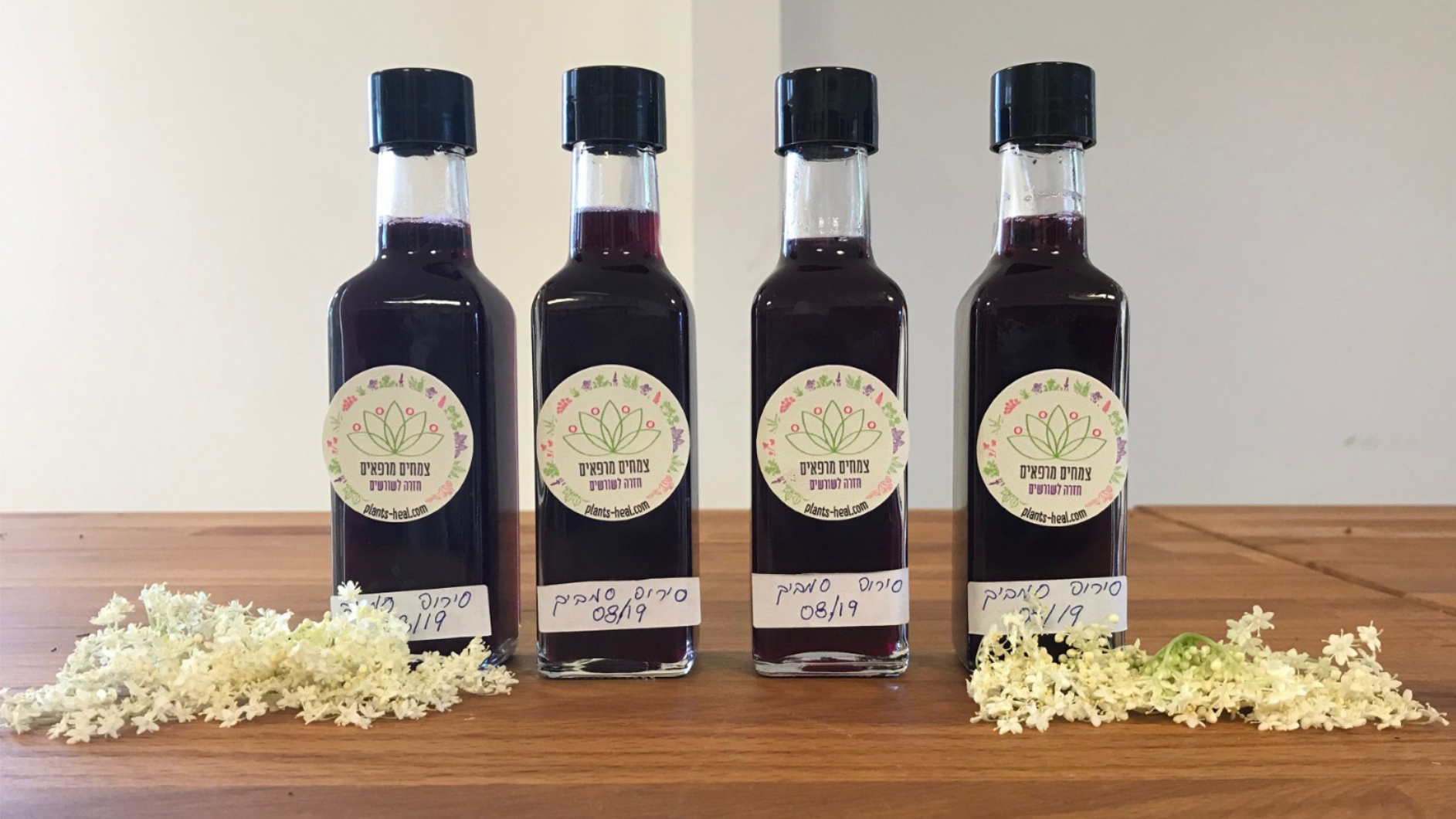 Making your own Sambuc (elderberries) Syrup
It is really worth the effort to make your own elderberry syrup. That way you can be sure of the ingredients as well as ensure that there are plenty of berries. Some of the store-bought syrups have a negligible amount of elderberry and may also contain harmful preservatives such as alcohol.
There are many different elderberry syrup recipes available on the internet. This is a basic recipe and can be altered to create a larger/smaller elderberry/water ratio if desired. Also, feel free to add or omit any herbs as you like for that extra measure - thyme for a cough, elderberry flowers for a sinus infection, lemon balm for a viral infection, sage for balancing hormones or fungal infection...
Ingredients:
1 cup of dried elderberries (or 2 cups of fresh berries)
2-3 cups of filtered water
1 tablespoon of grated fresh ginger
1 cinnamon stick
½ teaspoon of ground clove and/or a small handful of rose hips
¾ - 1 cup of honey or agave syrup
Additional options: rose hips, thyme, sage, lemon balm, elderberry flowers
Instructions:
Fill a pot with elderberries, water, ginger, cinnamon, clove, and rose hips (if desired). Bring to a slow boil and cover. Continue to simmer 45-60 minutes.
Turn off heat and mash or press down on berries to extract more juice. Add fresh herbs of choice. Let sit covered an additional 20-30 minutes.
Pour through a cotton/muslin cloth into a large glass bowl and add honey.
Store in a covered glass container in the refrigerator. Will keep 2-3 weeks. If you want to increase the shelf life, increase the amount of honey added to the mixture.
Recommended dosage for acute disease:
Adults 1-1 ½ tablespoon 3-5 times a day. Children ½ -1 teaspoon 3-5 times a day. Do not give to children under the age of 1
For preventive measures use the same dosage once daily.
Enjoy the great taste and health benefits of one of nature's most powerful herbs. With much love,
Beth and Judy
---
This article contains information taken from the Medical Medium and Chestnut School of Herbal Medicine websites